Do you find there are certain days you feel more energized than others? Are those days becoming fewer and fewer? Best-selling author Tom Rath's new book explores this issue and provides the three keys to energizing your work and your life.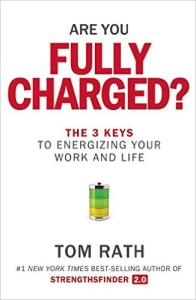 Tom Rath is Gallup researcher who studies the role of human behavior in business, health, and well-being. He has five NY Times best-sellers including "StrengthFinder 2.0" and more recently "WellBeing", which is one of my favorites.
In this book, Rath identifies the three keys to energizing our work and lives as "meaning, interactions, and energy". "Meaning" is defined as "doing something that benefits another person". "Interactions" mean "creating far more positive than negative moments". Finally, "Energy" is defined in the book as "making choices that improve your mental and physical health".
In the book, the author uses an abundance of empirical data to make the case why each of these three keys are so important to leading a "charged" life. Where would you rate today on each one?
The book is filled with great takeaways. Here are just a few of my favorites:
The odds of being completely engaged in your job increase by more than 250% if you spend time doing meaningful work throughout the day.
The vast majority of employees feel their company is a detriment to their overall health and well-being.
Employees who derive meaning from their work are 3x as likely to stay with a company.
Gallup research suggests that when you use your strengths in your work, you double your number of high quality work hours from 20-40 per week.
The most productive people take effective breaks during the course of the day. The elite on average work for 52 minutes and then take a 17 minute break.
Only 16% of people have extremely positive interactions on any given day.
We need at least 3-5 positive interactions to outweigh a negative one.

Workers who have a "best friend" at work are reported to be 7x more engaged in their jobs.
I very much enjoyed reading this book and look forward to applying it in the new year.