Need a compelling small business speaker or meeting facilitator for your next seminar, conference, or university class? Tim Fulton from Small Business Matters is a nationally recognized speaker and focuses on common trends and issues regarding small business management, strategy, marketing, and economics.
Tim brings an energetic charisma to every speaking engagement and consistently receives high audience ratings and invitations for repeat appearances. He has spoken in front of thousands of small business owners and executives, at venues including:
US Pan Asian American Chamber of Commerce Education Foundation

North Fulton Chamber of Commerce
Vistage International
The University of Georgia Terry School of Business


 
Potential Speaking Topics
Contact Tim directly to discuss your speaking/meeting needs:
tim@smallbusinessmattersonline.com.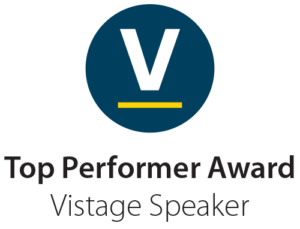 Tim recently received the Vistage Speaker Top Performer Award for 2022. The Top Performer award is an annual recognition of speakers who have presented 25+ engagements, maintained a 4.5+ average score, and have a 95%+ recommendation rating in the previous year.  
Here's what Vistage Chairs have said about these programs:
"Tim Fulton is such a dynamic, engaging speaker and we felt fortunate to have him for both my Key Group meeting and my CE Group retreat. His presentation was rated very highly by our members as being great reminders when dealing with employees. The material truly resonated with our group, many of whom are looking for expert advice on communicating more effectively with their direct reports and new hires to everyone in-between. Everyone left with great ideas to start implementing, and I have the task of following up and holding them accountable. I'd highly recommend Tim as your next speaker!" – Rod Thurley, Vistage Chair Nashville TN
"Tim's "Silver Bullet" workshop instantly provided my members and guests with clarity they have been seeking for years. The concepts and tools are simple to understand & implement, and VERY powerful. For example, the Welch Grid gave us a simple and clear common language we can now use when discussing our employees. We are now able to get on the same page immediately.
"Tim presented to my groups the week of March 9th, 2020 – days before our global economic machine came to a catastrophic, screeching halt. The conversations we had as a group in response to this situation were remarkably different given the tools Tim gave us. It made it very easy for us to determine where my members needed to invest in training and where they should let people go with more certainty with less guilt." John Salajka, Vistage Chair Memphis Tenn
"At this point in time, there is nothing more critical than your employees for the success of your company. Tim Fulton's program outlines the most effective strategies for engaging, retaining, and finding the best talent to bring your company through these challenging times. Tim Fulton's workshop condenses the best HR practices into a manageable Action Plan for your company to succeed." – Wade Bradley, Vistage Chair Atlanta Ga.