John Fenton on Mastering Time
John Fenton leveraged the leadership skills he learned as a collegiate athlete to build a successful career in finance, ultimately serving as a managing partner with BDO USA's Atlanta office. A member of the Forbes Coaching Council and a Certified Brain Management Consultant, today John helps entrepreneurs and executives improve their leadership skills with confidence, clarity, and awareness. John has also been published by Forbes.com, and authored a best selling book entitled "5 Minute Mastery".
Show Notes […]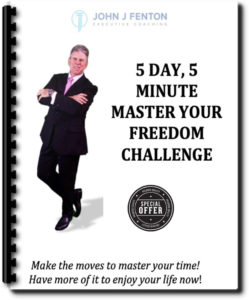 In this episode of the Small Business Matters podcast, John sits down with Tim and Taylor to discuss how a near death experience changed his life and led to a new career focused on helping entrepreneurs and executives benefit from his experience. In addition, John discusses his new workbook, "5 Day 5 Minute Freedom Challenge", designed to help business leaders master what's important and transform stress into success.
Key Points in this Episode
• SB Time Constraints [0:02:34]
• John's Vision [0:03:41]
• Finding Your Center [0:04:58]
• The Wake Up Call [0:06:30]
• Managing Your Thoughts [0:07:40]
• Time to Unplug [0:09:45]
• Principals of Effective Leadership [0:12:29]
• Establishing Trust [0:16:03]
• Another Health Scare [0:19:17]
• A Football Analogy for Business [0:24:15] 
• Rapid Fire [0:27:21]