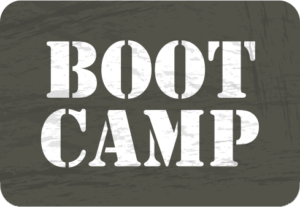 Navigating a small business has never been harder. In today's fast-paced society, executives and entrepreneurs are constantly "in the weeds", "on the go", or "putting out fires". There never seems to be enough time to slow down and think about where the business is going.
The Small Business Matters Boot Camp is designed to assist small business owners and operators who face these challenges by giving them the time and tools necessary to steer their business in the right direction. The boot camp will span five full days and include topics such as growth, financial analysis, marketing, and employee management. Perhaps most importantly, you'll have the opportunity to network with entrepreneurs that are battling the same challenges and obstacles that your business faces every day.
Our next Boot Camp begins January 23 with five full days of executive development on the following Thursdays:
Jan. 23 |  Feb. 27  |  March 26  |  April 23  |  May 21
Topics of discussion include:
Strategic Planning

Leadership

Marketing

Financial Management

Operational Design
Can't commit to consecutive classes? No worries, each monthly unit/class is standalone. Attend any missed classes during the next program series, or elect to have someone within your organization attend the unit that relates to their areas of expertise.
Click Here for additional details and registration information.
We're confident the Small Business Matters Boot Camp will drastically change how you run your business, but don't just take our word for it… here's what past boot camp graduates had to say:
"Just fantastic. I was someone who started a business doing what I loved, not necessarily knowing business. Tim and the Boot Camp helped me focus on the business, turning what I saw as hard and overwhelming into something fun and exciting. This has been an invaluable tool for me which I will refer back to many times in the future. I highly recommend!"
Matthew Boyd
Evoke Design
"Tim Fulton's Small Business Matters Boot Camp is a must-attend for new business owners. The program shifted my style of thinking to an entrepreneur instead of just doing a job. I came away from the conference armed with the tools needed to raise the bar on how I manage my small business."
Sue Cleere
She's Wired